An ergonomic office chair combining automatic lumbar following system and sedentary management. The ultimate sitting experience is here.
A Dynamic
Proactive

Chair

The revolutionary reimagining of the classic ergonomic office chair. With its active lumbar adjustment, this smart chair offers a personalized and dynamic fit, catering to a wide range of body types. Indulge in supreme comfort and elevate your seating experience to new heights.


Automatic lumbar following system
To ditch the hassle of manual adjustments found in traditional ergonomic chairs. The Air Smart Chair ingeniously utilizes air chambers to effortlessly fine-tune the gap between your waist and the backrest. Experience seamless comfort as the chair adapts to your unique needs with ease.


Dynamic ergonomics
Experience optimal cushioning and support with the flexible design of the Air chamber. It conforms perfectly to the contours of your back, providing customized comfort whether fully inflated or partially deflated. The U-shaped design offers ergonomic support for your waist, spine, and sides of your back, ensuring maximum comfort and relief during long periods of sitting.


Pinnacle of personalized support
The advanced sensors ensure precise adjustments to your sitting position and angle, providing optimal lumbar support as the air chambers adapt. Enhance your experience further by inputting your height and weight in the Backrobo app for personalized support.
Free Shift Smart Fit
With its innovative dual-mode system, you have the freedom to choose between automatic and manual adjustment of the lumbar support. Customize your seating experience by manually adjusting the distance between the lumbar support and the backrest, giving you complete control over your comfort.


The control panel, located on the left side of the chair, provides effortless access to all the chair's features, ensuring quick and convenient adjustment to meet your needs.
Switch between auto and manual modes with a long-press of (+) or (-) buttons and a single press of "Smart".
A Personal
Health

Manager

Backrobo app provides you with exclusive and tailored sitting experience, ensuring that your health and comfort are our top priority. With daily data reports and health data monitoring, managing your work habits has never been easier.


Seamless Mode Switching
Seamlessly switch between manual and automatic modes, allowing you to customize your seating experience. Stay warm during chilly winters with the waist heating feature, and indulge in a relaxing massage after a busy morning.


Factors Affecting Your Sitting Score
Discover the key factors impacting your comprehensive sitting score. Understand the elements that contribute to your overall sitting experience and take steps towards improvement. Gain insights into optimizing your sitting habits for enhanced comfort and well-being.


Lumbar Support and Sedentary Record
Experience the benefits of exceptional lumbar support and track your average daily lumbar protection. Discover the importance of maintaining proper posture and the role it plays in your overall well-being. Gain insights into your sedentary habits and make informed decisions to improve your sitting experience. Prioritize your lumbar health and achieve a balanced and active lifestyle.
Sit for 1 hour and stand for 2mins.
Combat lower back pain caused by prolonged sitting with Backrobo's convenient solution. Research suggests standing up and walking around every 30 minutes to an hour to relieve muscle tension and fatigue. Prioritize your well-being and alleviate discomfort with this effective approach.


The Air Smart Chair keeps a watchful eye on your sitting time and uses inflation and deflation to remind you to stand up after an hour. Even if you choose to remain seated, the chair provides a two-minute waist exercise to relieve spinal pressure that effectively alleviates pain.

Lumbar Heating
Enjoy the warmth and relaxation as it targets your lumbar area, providing a luxurious and comforting sensation.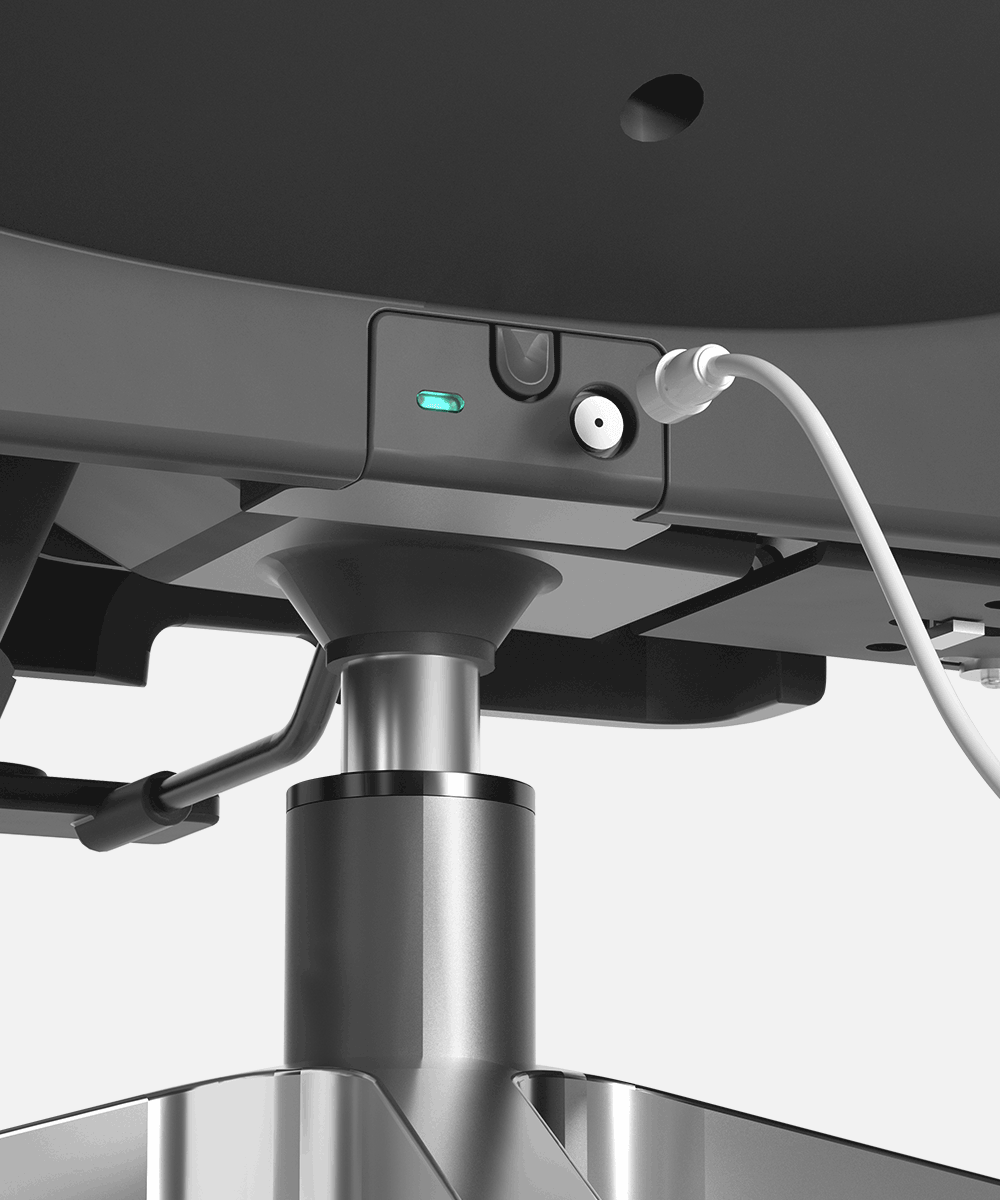 Wireless Magnetic
Experience a clutter-free and streamlined workspace with our innovative wireless magnetic chair.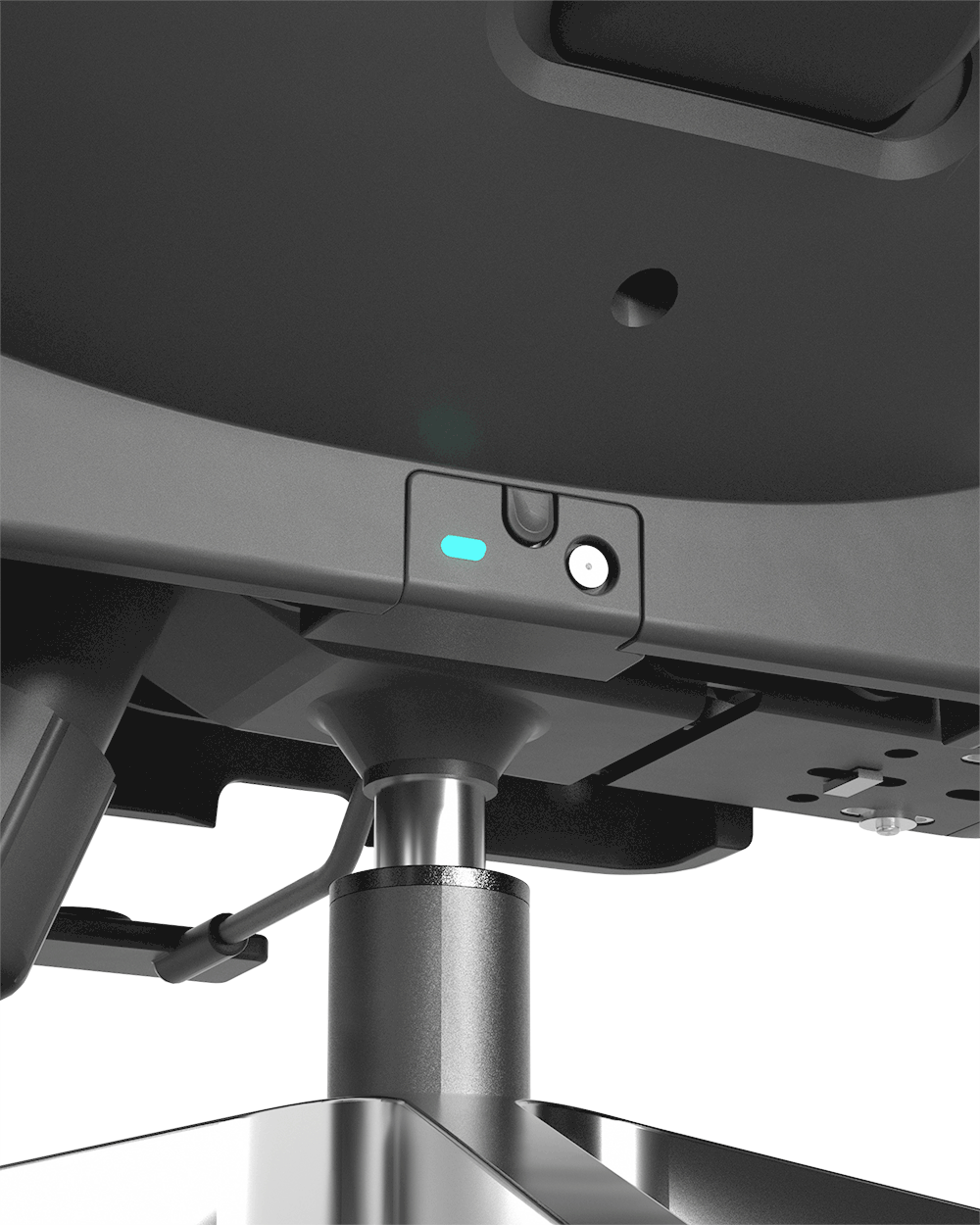 Detachable Power
A detachable battery sustains 5-6 days on single charge. The magnetic charging port is easy to use and safe.
Aesthetics and Ergonomics Combined
Customize your sitting position for a personalized and comfortable experience. With meticulous attention to detail, we set industry standards to prioritize your comfort and safety.

Customizable Angle and Height
The U-shaped headrest has a curved surface that offers complete support and comfort to your neck, preventing any tilting or turning of the head while resting. It can be adjusted up to 40° in angle and up to 4cm in height to fit your preferences.

Flexible Arm Support
Crafted with polyamide, glass fiber, and polyurethane materials, the 3D armrests offer exceptional adjustability. They can be raised and lowered by 6cm, moved forward and backward by 6cm, and rotated left and right by 12 degrees.

The aluminum alloy 5-star base provides exceptional stability and durability, ensuring reliable and steadfast support that lasts.

Easily adjust the chair's height for ideal alignment with your workstation, reducing shoulder strain.

These durable casters effortlessly glide from hard floors to carpets, providing optimal functional performance. Pair them with color-matching chairs for a coordinated and stylish appearance that complements your workspace.

Authoritative Certification
UL adapter certified.
UN38.3 battery certified.
TUV certified class-4 gas lift.
FCC communication certified.
BIFMA certified for safety strength.

Dynamic Support Air Smart Chair
Brilliantly automated. Incredibly adaptive. 30-day risk-free trial.